4' x 4' Washable Nostalgia Round Rug
$49$98
+8 more images
4' x 4' Washable Nostalgia Round Rug
1 customer is currently looking at this item
1 view in the last 24 hours
Product Details
SKU #: 6355698
Size FT: 4' 0" x 4' 0"
Size CM: 119 cm x 119 cm
Primary color is Blue.
Colors in this rug include: Blue, Beige, Black, Light Blue, Light Brown, Gray, Navy Blue, Peach, Pink.
Pile Material: Polyester Chenille
Pile Height: 1/8"
Made in: Turkey | Collection: Nostalgia
Product Description
The Nostalgia Collection gives the classic look of traditional rugs a stunning reinterpretation. These exquisitely designed multi-room pieces feature timeless medallion shapes and floral flourishes, perfect for any decor. An array of meticulously over-dyed and distressed shades adds sophisticated depth: Ivory and pink, beige and gray, antique blue – all designed to bring life to your space! Soft polyester chenille construction provides durability unmatched by handwovens; plus with low pile height it's kid friendly. This beautiful collection is completely machine washable and stain resistant - making them easy to keep fresh looking in any busy home or office. Let the Nostalgia Collection breathe new life into your living spaces with its stunning designs influenced by priceless styles sought after by collectors around the world!
Timeless looks on washable rugs
Quick and easy to clean in your washing machine
Must-have for high traffic or messy areas
Avoid expensive professional cleaners
So Fresh & So Clean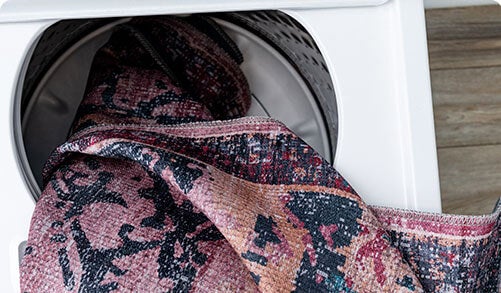 Quick & Easy to Clean
Choose washable rugs for the easiest clean. You can wash the entire rug in the washing machine using cold water and a mild detergent. We recommend hanging to air dry.
Perfect for Kids & Pets
With a washable rug, you can have the rug of your dreams. Water and stain-resistant, washable rugs are perfect to handle all of life's messes.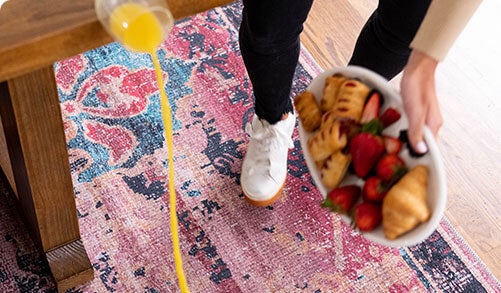 Durable Construction
Made with a premium soft, durable pile and cotton backing, washable rugs are the best low-maintenance choice for your high-traffic areas.
Unique Designs
You no longer need to sacrifice style for function, you can have it all. With one-of-a-kind looks and the ease of cleaning, they're equally stylish and convenient.