3' 3 x 5' 3 Washable Kamala Washable Rug
$49$98
+10 more images
3' 3 x 5' 3 Washable Kamala Washable Rug
1 customer is currently looking at this item
1 view in the last 24 hours
Order in 7 hrs 58 min 53 sec to ship today!
Product Details
SKU #: 6377728
Size FT: 3' 3" x 5' 3"
Size CM: 99 cm x 160 cm
Primary color is Navy Blue.
Colors in this rug include: Navy Blue, Gray, Ivory, Light Blue.
Pile Material: 100% Polyester
Pile Height: 1/8" | Currently in stock
Made in: Turkey | Collection: Kamala Washable
Free Shipping & Free Returns
Product Description
Make sure your home stands out from the rest with the Kamala Washable Collection! Carefully crafted with an array of styles, including abstract geometric, animal prints, traditional and floral patterns, one can create a unified look in every room. The consistent core color palette consisting of pink tones blended with navy and taupe will tie each rug together for optimal style success. Built to last, these rugs are machine-made from polyester materials and boast easy cleaning as they are both machine washable and shed-free. Their stain resistance makes them ideal for high traffic areas while also offering durability that won't leave you feeling shortchanged. Whether you're looking to make a statement or simply soften up your bedroom flooring - the Kamala Collection is here to answer all your decorating needs!
Timeless looks on washable rugs
Quick and easy to clean in your washing machine
Must-have for high traffic or messy areas
Avoid expensive professional cleaners
So Fresh & So Clean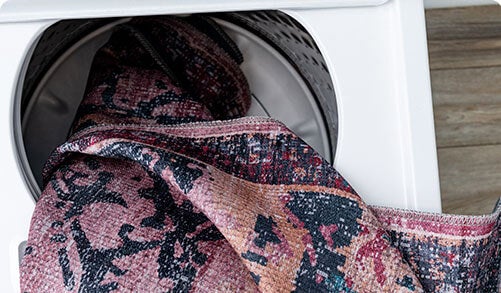 Quick & Easy to Clean
Choose washable rugs for the easiest clean. You can wash the entire rug in the washing machine using cold water and a mild detergent. We recommend hanging to air dry.
Perfect for Kids & Pets
With a washable rug, you can have the rug of your dreams. Water and stain-resistant, washable rugs are perfect to handle all of life's messes.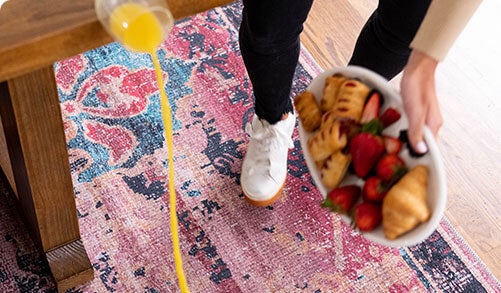 Durable Construction
Made with a premium soft, durable pile and cotton backing, washable rugs are the best low-maintenance choice for your high-traffic areas.
Unique Designs
You no longer need to sacrifice style for function, you can have it all. With one-of-a-kind looks and the ease of cleaning, they're equally stylish and convenient.