2' x 6' Washable Eco Plaid Indoor Outdoor Washable Runner Indoor / Outdoor Rug
$99$198
+9 more images
2' x 6' Washable Eco Plaid Indoor Outdoor Washable Runner Indoor / Outdoor Rug
1 customer is currently looking at this item
1 view in the last 24 hours
Product Details
SKU #: 6378070
Size FT: 2' 0" x 6' 0"
Size CM: 62 cm x 185 cm
Primary color is Navy Blue.
Colors in this rug include: Navy Blue, Ivory.
Pile Material: 100% Recycled Plastic Bottles
Pile Height: 3/4" | Currently in stock
Made in: India | Collection: Eco Plaid Indoor Outdoor Washable
Has fringe.
Free Shipping & Free Returns
Product Description
Bring freshness and fun into your home this season with the gorgeous palette of colors in the Eco Plaid Indoor/Outdoor Washable Collection. Consisting of regal navy, serene pink, or refined gray hues paired with classic warm ivory accents, this rug gives a stylish update to your décor! This reversible pattern means that both sides feature exactly the same eye-catching design created through traditional heirloom weaving techniques for a stunningly nostalgic look. Crafted from stain-resistant material that's easy to clean - just toss it into any washing machine - no professional dry cleaning service needed here! Furthermore its kid-friendly construction makes it perfectly safe for toddlers' playrooms or bedrooms bringing together classic old-world styling with contemporary practicality all under one roof. With its versatile size selection; combine different rugs for multi-room placement for an expansive pop – surely making you feel like you never have enough wonderful plaids adorning your walls at once! Whether hung up on the wall or boasting proudly across entryways
Timeless looks on washable rugs
Quick and easy to clean in your washing machine
Must-have for high traffic or messy areas
Avoid expensive professional cleaners
So Fresh & So Clean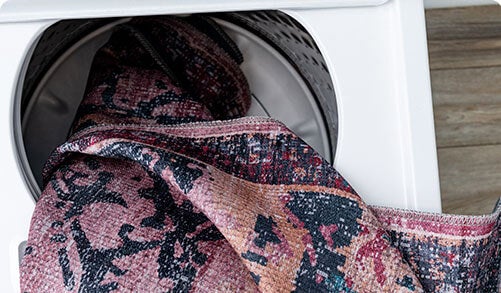 Quick & Easy to Clean
Choose washable rugs for the easiest clean. You can wash the entire rug in the washing machine using cold water and a mild detergent. We recommend hanging to air dry.
Perfect for Kids & Pets
With a washable rug, you can have the rug of your dreams. Water and stain-resistant, washable rugs are perfect to handle all of life's messes.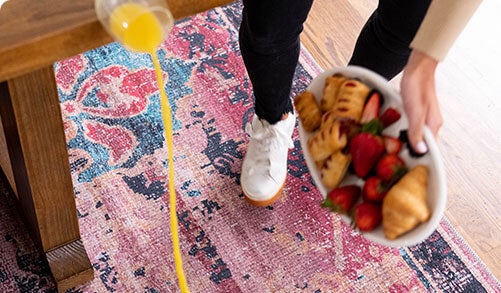 Durable Construction
Made with a premium soft, durable pile and cotton backing, washable rugs are the best low-maintenance choice for your high-traffic areas.
Unique Designs
You no longer need to sacrifice style for function, you can have it all. With one-of-a-kind looks and the ease of cleaning, they're equally stylish and convenient.