+8 more images
2' x 8' Washable Yara Runner Rug
1 customer is currently looking at this item
1 view in the last 24 hours
This rug is currently unavailable.
Get notified when this rug is back in stock!
Product Details
SKU #: 6364154
Size FT: 2' 0" x 8' 0"
Size CM: 61 cm x 244 cm
Primary color is Royal Blue.
Colors in this rug include: Royal Blue, Black, Blue, Ivory, Light Blue, Navy Blue, Cream.
Pile Material: Polyester & Chenille
Pile Height: 1/8"
Made in: Turkey | Collection: Yara
Product Description
Are you ready to have a collection of machine washable rugs that fit in every room of your home? We are! Meet the Yara Collection, an amazing mixture of traditional motifs and modern minimal designs. These stunning rugs showcase beautiful overdyed patterns such as medallion and floral border designs, as well as linear styles that make any room look complete. Composed from a high-quality polyester and chenille blend for unmatched softness, these powerful loomed power pile creations create an atmosphere of distinction with their eye-catching colors apparent even in busy areas. What's more - each rug is kid-friendly, shed-free & stain resistant plus machine washable so your home looks effortlessly clean & pristine at all times! So what are you waiting for? Transform any space into an elegant paradise with the extraordinary versatility & low maintenance appeal of the Yara Collection today!
Timeless looks on washable rugs
Quick and easy to clean in your washing machine
Must-have for high traffic or messy areas
Avoid expensive professional cleaners
So Fresh & So Clean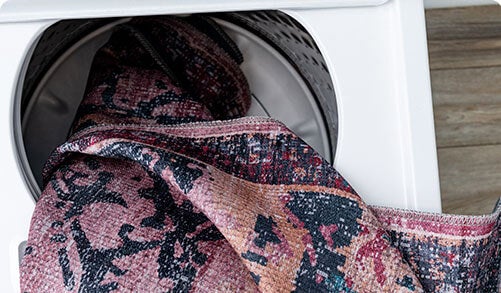 Quick & Easy to Clean
Choose washable rugs for the easiest clean. You can wash the entire rug in the washing machine using cold water and a mild detergent. We recommend hanging to air dry.
Perfect for Kids & Pets
With a washable rug, you can have the rug of your dreams. Water and stain-resistant, washable rugs are perfect to handle all of life's messes.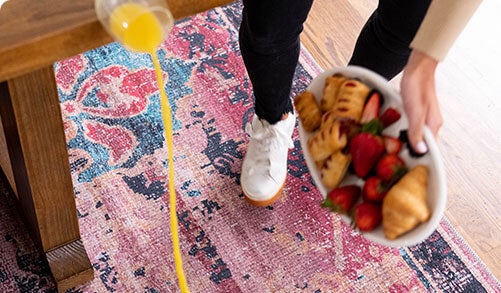 Durable Construction
Made with a premium soft, durable pile and cotton backing, washable rugs are the best low-maintenance choice for your high-traffic areas.
Unique Designs
You no longer need to sacrifice style for function, you can have it all. With one-of-a-kind looks and the ease of cleaning, they're equally stylish and convenient.